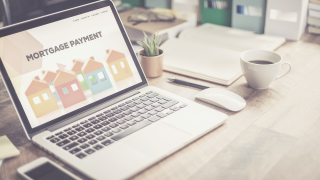 What Makes Up Your Monthly Mortgage Payment?
Aug 26, 2021
A monthly mortgage payment is a significant expense on the average household budget; yet many consumers are unaware of what exactly makes up their mortgage payment. Understanding the structure of your mortgage payments will not only help you understand how much house you can afford, but will also help in determining how long it will take to pay off your home loan and what it will cost you over time.
Let's go over the main components that make up a mortgage payment of a fixed-rate loan. Your monthly mortgage payment can be broken down into four parts: principal, interest, taxes, and insurance. Together, these parts are known as "PITI."

1. Principal.
Principal is the actual amount of your mortgage loan. The percentage of the payment that goes to the principal increases over time. Therefore, when you first begin paying on your mortgage, the percentage of your payment that will go toward principal will be lower than someone who has been in their home for say, 10 years.
2. Interest.
Another major component of your mortgage payment is interest. This is what the lender charges for lending you the money. When you first begin paying on your mortgage, you will notice on your monthly mortgage statement that a larger percentage of your payment is going toward interest. Over time, as you pay down the principal, you will owe less interest each month, and will begin to see your interest payments decrease while the portion being paid toward principal increases as discussed above. Near the end of the loan, you owe much less interest, and most of your payment will go to pay off the last of the principal. This process is known as amortization.
Click here for a payment and amortization calculator
.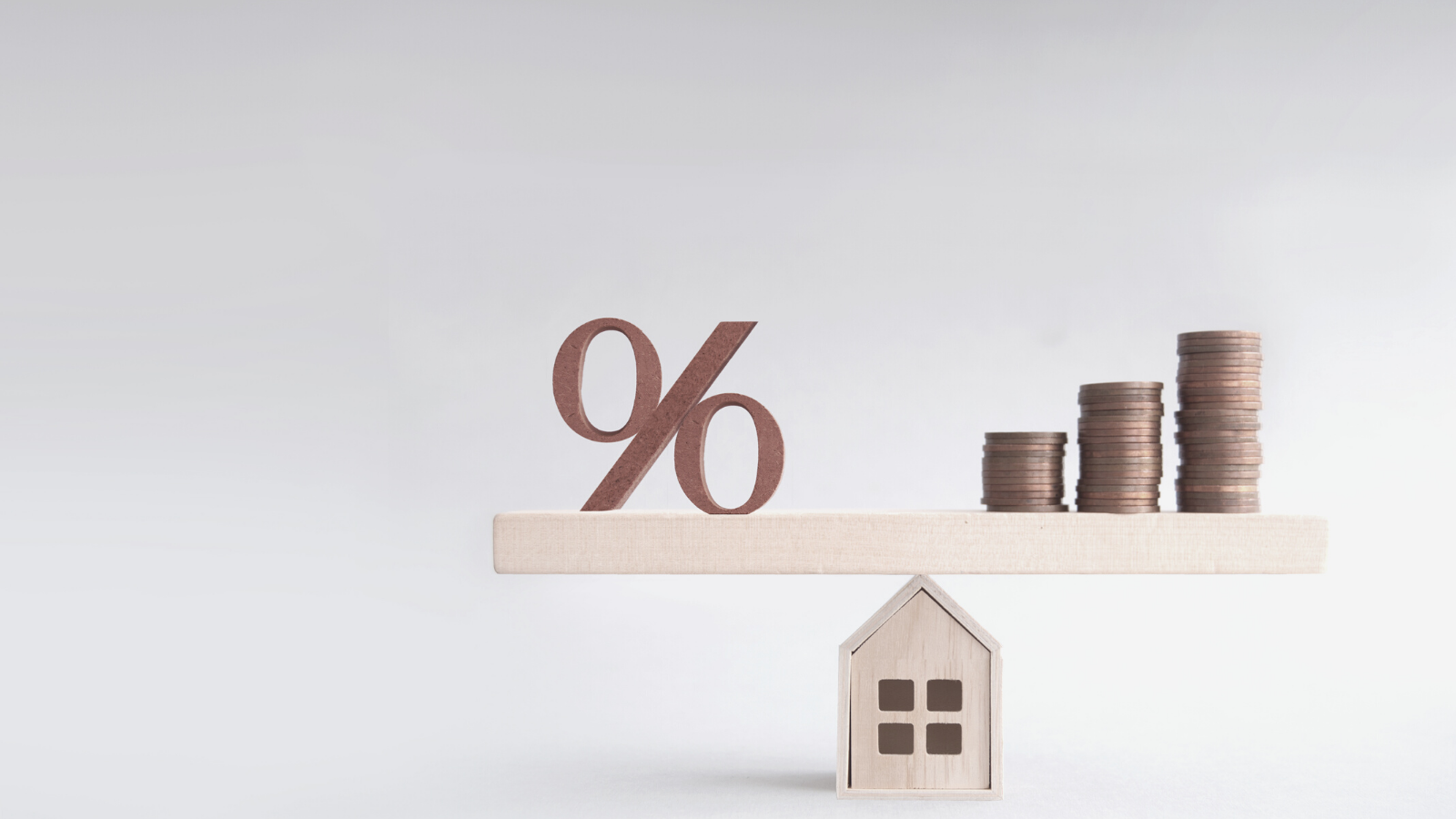 3. Property Tax.
Property tax is the fee a property owner is required to pay to their local government based on the assessed value of their property. Tax rates are calculated by the local government where the property is located and can be due either annually or bi-annually. Typically a property's taxes are reevaluated by the local tax assessor every one to five years and therefore may fluctuate.
To find your county's tax collector agency, you can search by zip code by visiting:
Nationwide Environmental Title Research
. Consult with a tax advisor in your area for further information.
4. Homeowner's Insurance.
Homeowner's insurance pays for losses and damages to your property if something unexpected happens, such as fire or burglary. When you have a mortgage, your lender wants to make sure your property is protected by insurance. For this reason, your lender will generally require proof of homeowner's insurance before closing on your home loan.
Although taxes and homeowner's insurance are generally paid once or twice a year, many lenders will require you to pay your taxes and insurance using an escrow account so they can be sure these items get paid. Each month a portion of your mortgage payment will be sent to your escrow account. Once your homeowner's insurance and taxes are due, your lender will pay these items of your behalf out of your escrow account
[
4
]
. When reassessed on an annual basis, your escrow payments could fluctuate due to your homeowner's insurance and taxes fluctuating.
Even if your lender does not require an escrow account, you can request one. An escrow account will make it easier for you to budget your large property-related bills by paying smaller increments with each monthly mortgage payment instead of making one large lump sum when your homeowner's insurance premium and property taxes come due.
5. Mortgage Insurance (if applicable).
What is Mortgage Insurance? Mortgage insurance protects the lender in the event that the borrower falls behind on making payments.
Typically, borrowers making a down payment of less than 20% of the purchase price of the home will be required to pay mortgage insurance. Mortgage insurance is also typically required on FHA loans. If you are required to pay mortgage insurance, it will be included in your total monthly payment that you make to your lender, your costs at closing, or both.
When reviewing your mortgage Loan Estimate, make sure to review the estimated Total Monthly Payment listed on Page 1 in the "Projected Payments" section. Many homebuyers make the mistake of looking at just the principal and interest payment, leading to an unpleasant surprise when they learn their total monthly payment is much higher.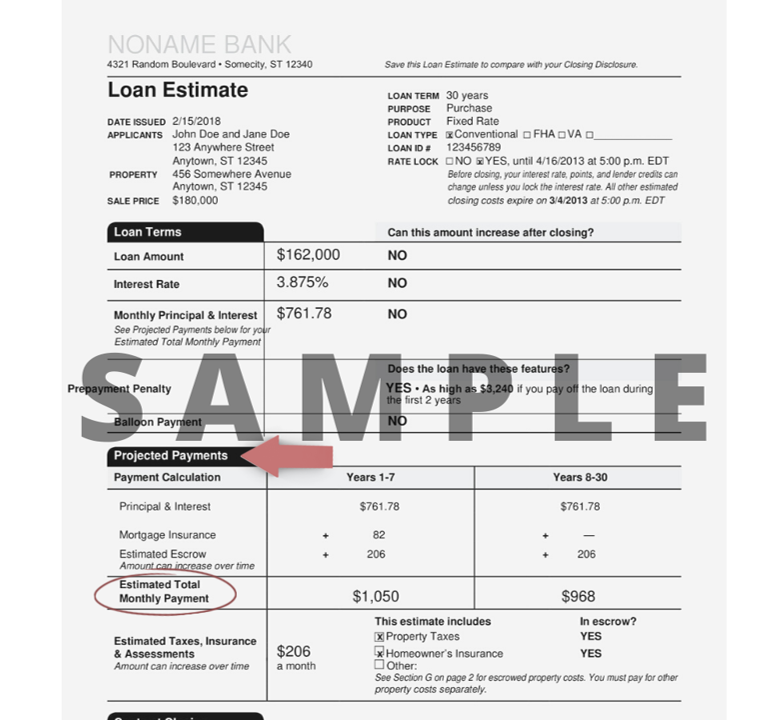 Important things to remember regarding your fixed-rate mortgage loan payments:
The portion of your payment that goes to principal reduces the amount you owe on the loan and builds equity in your home.
The portion of the payment that goes to interest does not reduce your balance or build equity. Therefore, the equity you build in your home will be much less than the sum of your monthly payments.
With a typical fixed-rate loan, the combined principal and interest payment will not change over the life of your loan, but the amounts that go to principal rather than interest will.
Although your principal and interest payment will generally remain the same (as long as you make regular payments on time), your escrow payment can change. For example, if your home increases in value, your property taxes typically increase as well.
Whether you are a first time homeowner or you have been through this process a few times, each time can still leave you with questions. As we have learned - no two loans are alike. That's where we come in. We want to help make your home loan process run smoothly, as well as be your guide to better understanding everything that comes with homeownership. Give us a call today, and let's discuss your financial goals.
Offer of credit is subject to credit approval. DSLD Mortgage, LLC NMLS #120308 is an equal opportunity lender. 7660 Pecue Lane, Suite 300 Baton Rouge, LA 70809. Information provided as of 08/27/2021. www.nmlsconsumeraccess.org.